15 Days Bar Bat Mitzvah Tour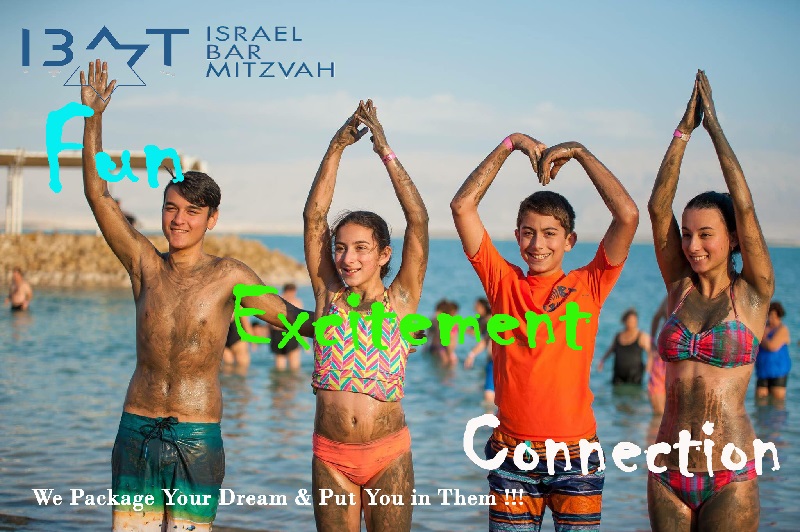 "We have upgraded our Swim & Lunch program to Herod's Dead Sea"
---
DAY 1
USA / CANADA - TEL AVIV
Overnight flight to Tel Aviv, Israel. Get ready to enjoy one of the best tours you have ever had in your lifetime. IBMT, with its own operations office in Jerusalem is dedicated to give personal service to each and every one of you.
---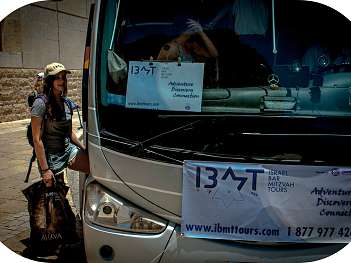 DAY 2
ARRIVAL TEL AVIV & JERUSALEM
"Bruchim Habaim" and welcome to Israel. You will be warmly greeted by an IBMT Tours representative at the airport who will assist you through
customs. FREE transfer will be available for those booked their flights with IBMT Tours. After you have checked into the hotel you are invited to join
us in one of the private lounges of the hotel for a festive IBMT Tours welcome cocktail reception where you can mingle with your fellow travelers and
enjoy hot canapes & hors d'oeuvres. Overnight in Jerusalem. (Welcome cocktail reception light dinner)
---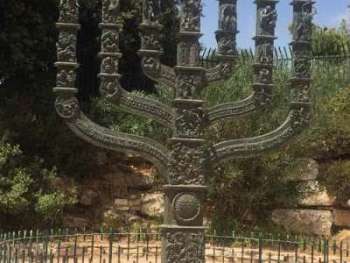 DAY 3
JERUSALEM (OLD CITY)
Begin the day with a trip to the top of Mount Scopus, one of the few places from which both the Dead Sea and the Dome of the Rock can be seen. Marvel at your first panoramic view of Jerusalem from the Haas Promenade. Together with the members of the tour, collectively we recite the "Shehechayanu" blessing and toast l'chaim to celebrate your visit to Israel. Enter via the Zion Gate which leads to the Armenian Quarter and walk through the restored Jewish Quarter passing the excavated Roman Cardo. At the revered Western Wall, a specially arranged walk takes us through a newly opened 1200 foot long tunnel excavated at the time of King Herod used as an aqueduct to channel water to the Temple. On our way to Israel Museum we will pass by the Knesset, Israel's Parliament, there stands the 5m – seven-branched bronze Menorah, the symbol of the Jewish people. Across the way is the modern Supreme Court Building, the highest judicial court in Israel. Proudly sitting on a hill in Givat Ram, the Israel Museum was founded in 1965.The white domed Shrine of the Book represents the lids of the jars in which the famous Dead Sea Scrolls were found near Qumran. Across the way is the Billy Rose Sculpture Garden, a unique blend of Zen and Western art principles. Marvel at the meticulously recreated 1:50 Scale Model of Ancient Jerusalem during the Second Temple period which was transferred to the Israel Museum in 2006 at a cost of $3.5 million dollars. Later at the hotel join the Rabbi for your Bar/Bat Mitzvah rehearsal. Free evening dinner is on your own.
Overnight Jerusalem. (Breakfast)
---
DAY 4
JERUSALEM / TEL MARESHA / REHOVOT  LATRUN / JERUSALEM
Now it's time to roll up your sleeves to take part in a 3-hour program of digging, sifting and touring Beit Guvrin National Park. Who knows what we might find on our archeological dig at Tel Maresha, a UNESCO World Heritage Site. Continue to Rehovot to visit the Ayalon Institute, a secret underground ammunition factory where you will learn of the bravery and ingenuity of pre-state freedom Hebrew fighters. Pay a visit to the Yad La-Shiryon Museum in Latrun (between Jerusalem and Tel-Aviv/Jaffa) Famous around the world for its unique and diverse collection of tanks and armored vehicles, this is a `hands on` visit for the children as they can actually climb up on the combat tanks. This was the staging area for the Independence War. At the Armor Corps Museum learn about the battles that secured the road to Jerusalem which led to victory.

Tonight we will experience a new type of dinner, we will travel to the famous Machne Yehuda market for a Shuk tasting tour a different type of cuisines will be offered to us exploring the variety of foods Israel has to offer. An experience you do not want to miss out on. Overnight in Jerusalem.
(Breakfast & dinner)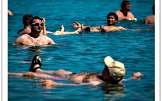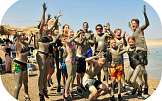 ---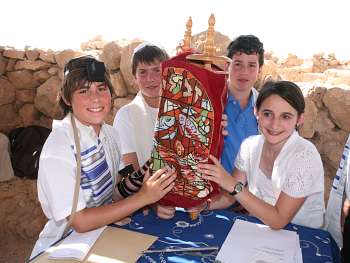 DAY 5
JERUSALEM / MASADA / DEAD SEA (BAR MITZVAH DAY)
This is YOUR SPECIAL BAR/BAT MITZVAH DAY. Drive through the Judean Wilderness to the Dead Sea, the lowest point on earth, some 1200 feet below sea level and continue to the UNESCO World Heritage Site of Masada. An exciting 3-minute cable car ride will whisk you to the top to view the excavations of the Herodian palace, storerooms, bathhouse and water Reservoirs. Visit the ruins of the small Synagogue which served the Jews of Masada and the Beit Midrash (Torah Study Hall). Your guide will retell the harrowing tale of the 967 zealots (men, women and children) Here we will meet our Rabbi to witness the joy of your child coming of age. Descend by cable car and head to the Dead Sea. You are invited by IBMT Tours for lunch & a swim at the Herod's hotel Dead Sea and experience the unique sensation of "floating" in the unsinkable waters. Most facilities will be available for you. Adults will be able to enjoy the spa as well. Time for relaxation before your exciting evening. After a great lunch and relaxation at the Dead Sea and spa we head to the mountains between Jerusalem and Dead Sea. A convoy of camels will be waiting to pick us up at (Eretz Beresheet) where the story of Abraham will be recreated. In Abraham's tent, enjoy an authentic Festive Bar/Bat Mitzvah Dinner followed by a Menorah Lighting Ceremony. An entertainment group will celebrate our Simcha through the evening with dancing, singing, at drummer circle and other surprises. A magical evening is in store for us. This will be an evening you will never forget! A short drive back to Jerusalem for overnight. Dress code: casual (Breakfast, Lunch, Dinner)
---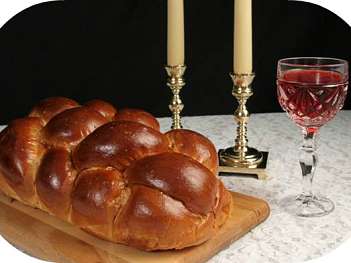 DAY 6
JERUSALEM – (SHABBAT)  
Our day begins with a somber visit to Yad Vashem, Israel's memorial to the Holocaust where tour members take part in a Yizkor service. See the poignant Children's Pavilion, the new Holocaust Museum and the Valley of Destroyed Communities where the names of 5000 lost communities have been inscribed in the stone walls.
After such a difficult visit to Yad Vashem we need our tranquil time and to change our mood by visiting to the Ben Yehuda Street in Jerusalem where it is happening, lots of locals are celebrating the coming of the weekend by spending time on this beautiful exciding and happening street of Jerusalem, Cafes, shops around to explore.
Return to the hotel in Jerusalem to dress for Shabbat. We are blessed to be able to celebrate Shabbat in Jerusalem. Your host for Shabbat will be waiting to take you on an IBMT Tours experience ``Shabbat of a Lifetime`` which includes Kabbalat Shabbat, dinner and hospitality, Jerusalem style. Afterwards a short walk back to the hotel. Overnight Jerusalem. (Breakfast, Dinner)
---
DAY 7
JERUSALEM (SHABBAT)  DAY AT LEISURE
In observance of Shabbat Today is a free day, families can explore the Old City and the Jewish Quarter, one of the four quarters of the Old City. Or simply relax at the hotel. Dinner is on your own. Overnight in Jerusalem. (Breakfast)
---
DAY 8
JERUSALEM / KFAR KEDEM / SAFED / TIBERIAS
Leaving Jerusalem behind we head for the Galilee and Kfar Kedem situated between Tiberius and Haifa, next to Tzippori where a hands-on experience will transport us back in time to life as it was in a Jewish village in the Galilee some 2000 years ago. Wearing authentic clothing, you will ride donkeys, turn wheat into bread and feast on a rustic Galilean meal. This is an experience not to be missed. Light lunch will be served at the village under a tent.
We continue to Safed, one of the four holy cities is also the home of Kaballah (Jewish mysticism). This charming town filled with cobblestoned streets and lined with ancient synagogues and artists' galleries, offers breathtaking views of the entire Upper Galilee. Arriving to our destination at our hotel, You are invited for our second wind of celebration in the north, Our chef will prepare an outdoor Potjie South African B.B.Q dinner for our families sitting around a Bonfire and a guitar player will pleasure our night with Israeli Mediterranean songs and dance. If you thought we had enough partying and celebrating, mmm... think again, another evening under the open sky in the north with great food and entertainment. Overnight Kibbutz (Breakfast, Light lunch, Dinner)
---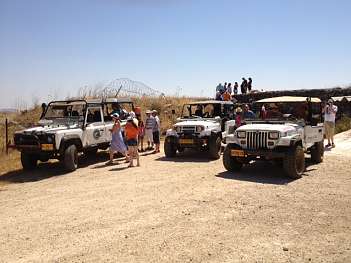 DAY 9
TIBERIAS / GOLAN HEIGHTS / KUNEITRA / EIN ZIVAN / TIBERIAS
Explore the geo-politically vital Golan Heights by a private jeep this morning. Travelling off-the-beaten-track roads, we will hear about the decisive battles fought in this area. In Biblical times referred to as Bashan, the captivating beauty of the Golan becomes more beautiful as you go higher. Stopping at an observation point overlooking Kuneita and Syria, you will gain a meaningful perspective as to the significance of the strategic Golan Heights.
Now for some fun as we head to Ein Zivan to participate in chocolate making at the famous De' Karina chocolate factory. Established by Karina Chaplinski, De Karina Chocolates has gained an impressive reputation as a gourmet chocolatier. Hear about the history and culture and take part in a hands-on workshop. (For the adults we will visit a winery and take part in wine tasting).
This afternoon is set aside for more fun as you river raft and zip line on the mighty Jordan River. Try not to get wet! Driving back along the shoreline of the Sea of Galilee, Israel's sole source of fresh water and a favorite vacations spot we come to Tiberias, once a Rabbinical scholar center. Tonight a special dinner with members of the Kibbutz.Overnight Kibbutz. (Breakfast & Dinner)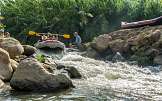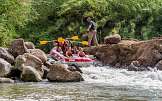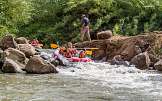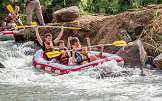 ---
DAY 10
TIBERIAS / TEL DAN / DRUZE VILLAGE / TEL AVIV
We set our sights on the Tel Dan National Park combining a lush nature reserve with a Biblical archaeological experience with three easy hiking routes and a short wheelchair-accessible trail. At the heart of the park is Tel Dan, the capital of the ancient northern kingdom. The Dan River, one of the sources of the Jordan, flows through the reserve, its water coming from the snowmelt of nearby Mount Hermon. A wading pool offers a refreshing break.
On top of Mt. Carmel, we stop at the Druze Village of Ussifiya for a traditional Druze lunch hosted by a Druze family and learn about these unique Israeli citizens. En-route to Tel Aviv we will visit the ancient port city of Caesarea built by King Herod the Great about 25-13 B.C.E. Your short introduction includes the arched amphitheater and aqueduct. In less than one hour we will be in cosmopolitan Tel Aviv with time to relax on the beautiful beaches of the Mediterranean. Tonight, you will be dropped off at Rothschild street in Tel Aviv a scene you have never seen before in your eyes, Even South beach will be amazed. Time on your own to explore the great Cafes and amazing famous restaurants in the area where you will find different type of fusion food you can find only in Israel. You will receive "Envelope money" from IBMT and we will recommend some restaurants nearby for you. Overnight in Tel Aviv. (Breakfast, Druze Lunch & envelope money for dinner on your own)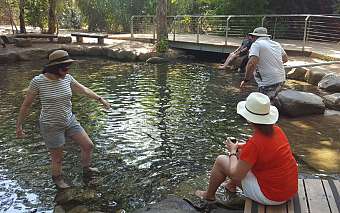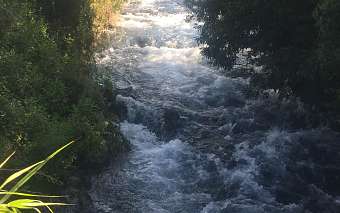 ---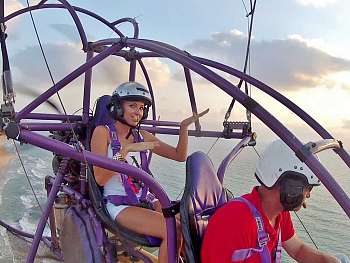 DAY 11
TEL AVIV / JAFFA / TEL AVIV
The morning is at leisure to spend time with your family swimming at the beach or at the hotel pool or walking along the promenade or you can take our Optional "Flying a Powered Parachute" program. You will be transferred to Kibbutz Ga'ash where you will meet your trainer / pilot and fly with him for about 20 minutes over the Mediterranean shore and will be able to see Israel from both sides. (Ask for details)

Around noon time we will start our day by visiting the famous in door Sarona Market and you will have time for taste a large variety of food & cuisine only created in Israel. Enjoy lunch on your own from a large variety of different cuisine the market will offer you. This afternoon moving on to ancient Jaffa where Jonah began his adventure with the whale. A perfect place for people watching and good food. Take a short walk through the restored town before returning to Tel Aviv with its narrow byways filled with artist galleries and cosmopolitan shops. A city full of secrets, surprises and adventures. We finalize our tour today with the Independence Hall, originally the Dizengoff House, where the Declaration of Independence was signed by the first Israeli Prime Minister David Ben Gurion in May of 1948. Tonight, enjoy a special farewell dinner at Goshen restaurant a five stars cuisine. Overnight in Tel Aviv.
(Breakfast, Dinner)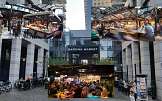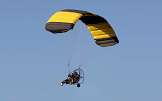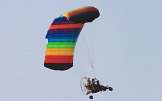 ---
DAY 12
TEL AVIV / EILAT
This morning after breakfast transfer to the airport for your flight to the Red Sea resort city Eilat. A special treat is planned for the B'ne'i Mitzvah children as they are invited to "swim with the dolphins" at Dolphin Reef. There is time this afternoon to enjoy your hotel's surroundings and sparkling waters. A night on your own to stroll along Eilat's promenade and enjoy one of the many restaurants the city has to offer. Overnight in Eilat. (Breakfast)
---
DAY 13
EILAT | DAY AT LEISURE or OPTIONAL TOUR TO PETRA
A full day at leisure to enjoy the amenities of the hotel and beach. Perhaps an optional Banana boat ride, Para sailing or other water sports at the beach.
For those wanting to explore an optional side trip to the rose colored ancient city of Petra (Jordan) is available.
(Participants will need a valid passport to enter Jordan). Petra, one of the Seven Wonders of the World rediscovered in 1912 by a Swiss explorer named Johannes Burckhardt. This rock cut capital city of the industrious Nabataeans holds many secrets and is one of the world's richest archaeological sites. As you exit the winding Siq, nothing can prepare you for what you will see. The Treasury is the first of many wonders that make up Petra. At the end of the tour return to Aqaba crossing the border back into Israel and to your hotel in Eilat. Overnight in Eilat. The Treasury, the greatest monument of Petra comes into view. At the end of the tour return back to the border and continue on to your hotel.
Enjoy Shabbat dinner at your hotel. Overnight in Eilat. (Breakfast & Shabbat dinner)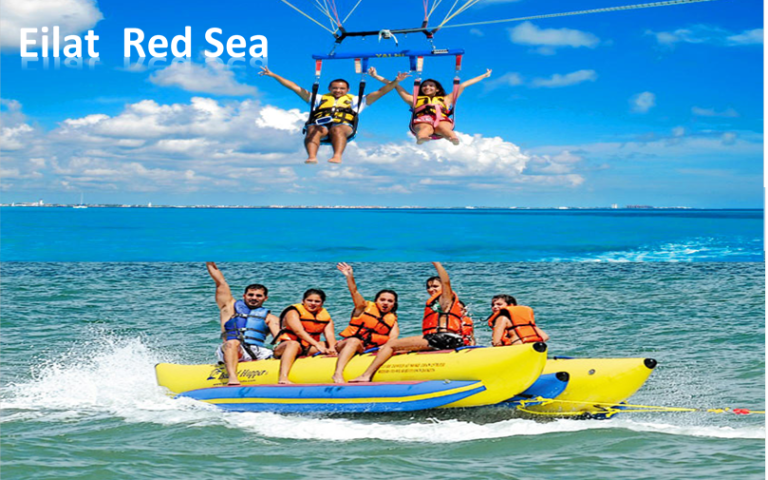 ---
DAY 14
EILAT / TEL AVIV
This morning see Eilat's rich underwater marine life without getting wet beginning with a visit to the Underwater Observatory (over 800 species, the only one of its kind in the world) and the Shark Tank, the largest shark pool of its kind in the Middle East.
An unforgettable experience as you learn about these deep sea predators.
In late morning board a Red Sea yacht for a four hour cruise on the Red Sea with ample time for swimming, snorkeling or scuba diving at the border of Israel, Jordan, Egypt and Saudi Arabia. While cruising, your captain and crew will prepare a BBQ lunch served with white or red wine. Return to the hotel for late check-out and transfer to the airport. A short flight takes you back to Tel Aviv and your connecting flight to the USA / Canada departing after midnight. (Breakfast & Lunch)
---
DAY 15
TEL AVIV - USA / CANADA
On board your transatlantic flight there is time to reflect on your visit and to start planning your next trip to Israel! Arrival in North America the same day. SHALOM!

---
Choose your preferred dates and book your trip today
BOOK NOW
Dates & Rates
"We have upgraded our Swim & Lunch program to Herod's Dead Sea"
---
* All prices in USD
Inclusions
---
Adventure, Israel Bar Mitzvah Tours Features:
**Free trip for the Bar/Bat Mitzvah child (ask for details)
Jerusalem: Inbal Hotel
Tel Aviv: David Intercontinental
Kibbutz: Hagoshrim
Eilat: Royal Beach or Herod's Palace
YOUR LAND TOUR INCLUDES
Meeting and assistance on arrival and departure at Ben Gurion Airport by a local IBMT
Tour representative
Escorted group transfer on arrival and departure
Transportation by deluxe air-conditioned motorcoach
Five Stars Deluxe hotels
The services of a Government licensed English speaking tour guide throughout (the services of a local guide only in Eilat depending upon the number of participants)
FREE Rabbi Service on Masada and preparatory disc with Torah readings
Domestic Airfare – round trip economy class air between Eilat and Tel Aviv
Porterage of one normal sized piece of luggage per person at the airport and hotels
10 Full days sightseeing as per the program. (as per IBMT Tours 15 day tour) including entrance fees as per the itinerary
12 night's hotel accommodation based on double occupancy at the above five star deluxe hotels
Full Israeli buffet breakfast at hotels daily
IBMT Tours Machne Yehuda Shuk bites dinner
IBMT Tours " Shabbat of a Life Time " dinner and hospitality
A BBQ dinner with bonfire and entertainment ​
A unique Bar/Bat Mitzvah Celebration & dinner (special event)
9 dinners throughout the 15 day tours
4 lunches throughout the tour (Dead Sea Lunch & swim / Kfar Kedem Light lunch / Authentic festive Druze lunch / BBQ Red Sea cruise lunch)
IBMT Tours special gift to the Bar/Bat Mitzvah child
IBMT Tours gift to the Bar / Bat Mitzvah child swim with Dolphins in Red Sea (15 day tour)
Archeological dig
Escorted group transfers on arrival and departure to Eilat
Sightseeing as per the IBMT Eilat extension
Underwater observatory
Four hour private Yacht Cruise on the Red Sea including a delicious BBQ lunch (15 day tour)
Local taxes and standard service charges on accommodation and meals included in the tour price
YOUR LAND TOUR DOES NOT INCLUDE
Round trip airfare to Tel Aviv and return
Departure taxes, fuel surcharge and airport improvement fees (subject to change without prior notice)
Insurance – non-refundable insurance premium
Single supplement quoted separately
Meals and beverages not mentioned