Tour Overview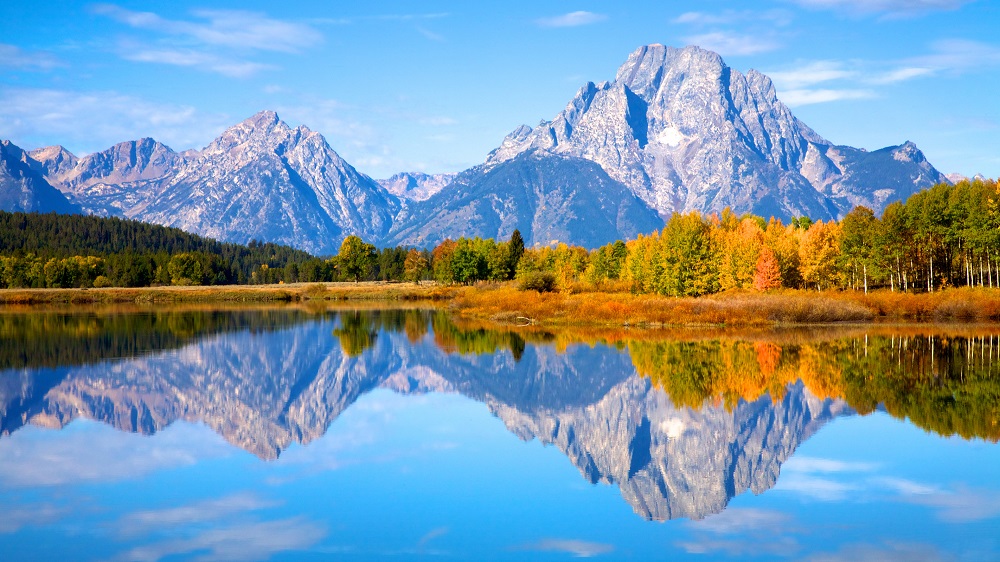 16 Days Discover Peru Andes & Amazon
This tour will operate with a minimum of 10 people traveling
If you wish to book this tour privately, please click on PRIVATE TOUR above
---
DAY 1
Lima
Your 16-day expedition of Peru begins when you set down at the airport in Lima and meet with one of the representatives from IBMT Tours. From the airport, you will be taken to your five-star hotel, and our representative will outline the trip of your life during a short information session.
You will spend the night in Lima
• Please note that check-in is scheduled at 15.00hrs. Early arrival passengers should wait at the lobby until check-in time, or book the room a day earlier.
---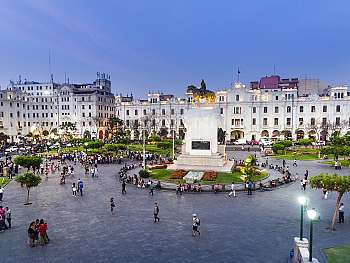 DAY 2
Lima / Puerto Maldonado (B/L/D)
We take you to the airport for a departure flight from Lima to Puerto Maldonado
When we arrive at Puerto Maldonado, we will take a 20-kilomtre drive to port at the Tambopata River, and visit the Native community of Infierno. From the port, we will see you off on a 45-minute boat ride down the river to Posada Amazonas – a box lunch will be served on the trip. Upon arrival at the lodge, you will be briefed in relation to security tips and other pertinent information as required. A short walk will take you to a canopy tower where you climb the scaffold to take in breathtaking vistas of the valley that the Tambopata River cuts through. You will stay overnight there and enjoy a traditional dinner at the lodge.
---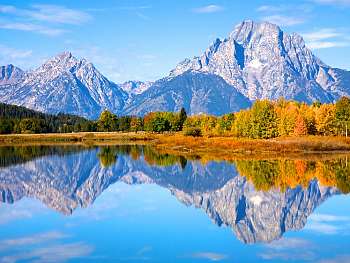 DAY 3
Puerto Maldonado (B/L/D)
After breakfast we will go by boat and hike to Tres Chimbadas Oxbow Lake, where you can paddle around the lake in a catamaran, searching for the resident family of nine giant river otters and other lakeside wildlife such as caiman, hoatzin and horned screamers. Lunch included.
Then we will go twenty-minute on a boat drive downriver to The Centro Ñape that is a communal organization that produces medicines out of forest plants and administers them to patients who choose their little clinic. They have produced a trail which explains the different medicinal (and other) uses of selected plants. Dinner and overnight at Posada Amazonas.
**Optional: Night walk
You will have the option of hiking out at night, when most of the mammals are active but rarely seen. Much easier to find are frogs with shapes and sounds as bizarre as their natural histories.
---
DAY 4
Puerto Maldonado (B/L/D)
Using Puerto Maldonado as a home base we will commence our day after breakfast with a short walk to the Parrot Clay Lick. The clay lick is home to many parrots and parakeets that come down to the lick on clear days to feast on the clay. The Mealy and Yellow-Headed Amazon and the Blue-Headed Parrot are frequent visitors. The Dusky-Headed Parakeet also spends time at the clay lick, as do other species of rare birds that exist in Peru. After lunch, our tour gets going again, we take you on a two-hour hike that ends at the highest tree in the area, a giant Ceiba tree. The focus of the hike will be an educational one for the traveler, historical facts about the rainforest and the animals that inhabit it will be imparted by your tour guide. The last item on the schedule for day four is trip down the river to a farm that supports a wide variety of diverse crops that are grown only in Peru. Dinner ends the day where we will stay at Posada Amazonas.
---
DAY 5
Puerto Maldonado / Cusco / Sacred Valley (B/L)
After breakfast, we will make our way out of Puerto Maldonado, en route to Cusco. A short flight to Cusco, you will touch down to the welcoming greeting of our representatives from IBMT Tours. They will brief you about your stay, and take you to the Sacred Valley of the Incas, where you will be acclimatized to the geography. Your overnight stay will be at Urubamba. Breakfast and lunch be served over the course of the travel day.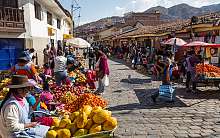 ---
DAY 6
Sacred Valley (B/L)
In the Sacred Valley, we will visit a remote locale, Chinchero. The town is one part archaeological site and one part home ancient textile production. Next stop of the day is a trip to Moray, where you can view the concentric terraces that make up the bulk of the farming in the area. There are 20 different types of microclimates that the terraces represent and it is a testament to Peruvian innovation's to get the most out of the land. From there, on to Maras and the colonial salt mines that. Colour contrast is what this area is all about, the lush green foliage is offset by white wells that creates a photo to last forever. You will be served breakfast and lunch will be served at a local restaurant.
Important: Get ready to pack a bag when you return to the hotel. The next stage of your journey through stunning Peru is a stop at Machu Picchu. Be aware, you will be allowed a small carry-on bag or a knapsack – weight should not exceed five kilograms/eleven pounds. Bags that exceed 62 linear in or157 linear cm will not be loaded. For this trip, bring only what you will need for a one-day excursion. Your luggage can stay at the hotel until we return from Machu Picchu.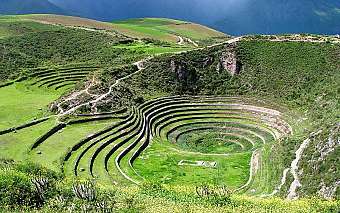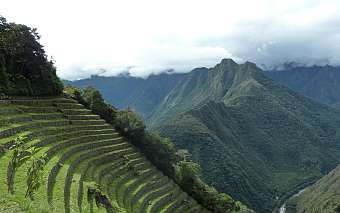 ---
DAY 7
Sacred Valley / Machu Picchu (B/L/D)
The day begins with a stop in the town of Ollantaytambo – a small village that has recorded history that dates back to the Incas. A trip to the Inca temple will be highlighted as the centre of Incan resistance when the Spanish invaded, lots of lush greenery and plenty of photo opportunities are there for the shutterbug in you. Interaction with local villagers will give the traveler a taste of Peruvian life and their traditional way of life. After a walkabout in Ollantaytambo, we board a train for our Aguas Calientes, where our local staff will take our group to lunch. When lunch is finished, we board a bus with our guide for the destination we know as Machu Picchu, the lost city of the Incans. Ceremonial shrines, terraces, and the ascent up to the top of the crown jewel, the Citadel, that rises high above the area in the Andes Mountains. Once we have seen the area, we will descend down the mountain to our hotel in Aguas Calientes. You will enjoy breakfast, lunch, and dinner throughout the day.
Important: Our guided tour of Machu Picchu is 2.5 hours. The Peruvian government limit visits to Machu Picchu to four hours in total, our tour is unrushed and you will see everything in the time allotted.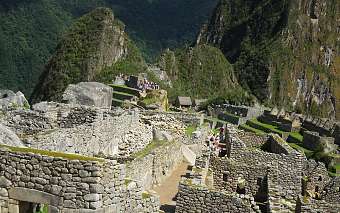 ---
DAY 8
Machu Picchu / Cusco (B/L)
We spend a second day at Machu Picchu, visiting the ruins that well over 500 years old. Machu Picchu opens at 6:00 a.m., and when you get an early start you will have the area all to yourself before day-trippers arrive. Travel will be part of the day, as we make our way back to Cusco. If you are on the early bird trip to the ruins, check-out of your hotel room, you can store your bags at the hotel before departure by bus and train – arriving at the Ollantaytambo train station. An IBMT Tour representative will greet you upon arrival for your overnight stay in Cusco.
Breakfast and lunch will part of the day's activities.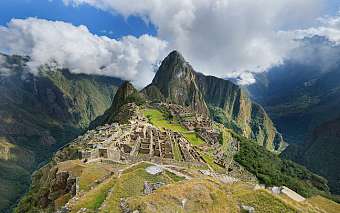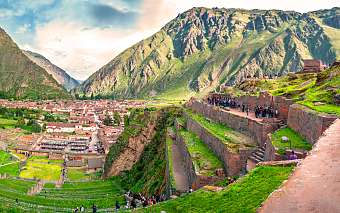 ---
DAY 9
Machu Picchu / Cusco (B/D)
After a whirlwind trip over eight days, you will have a morning of leisure to rest up and re-charge for the back half of your journey through historic and beautiful Peru. The afternoon holds a tour of the imperial city of Cusco and what tour of the city would be complete without a visit to the Sacsayhuaman Archaeological Park. The fortress is impressive, rocks with dimensions of four meters surround the area that is rich in vegetation and animals. An exploration of the Q'engo - the Puma Shrine – where you will visit the sacrificial altar that is built into a cave that has great religious significance for the locals. The fountains of life at Tambomachay are next to visit, then a stop for a panoramic view at the Puca Pucara watchtower, the main gate for the city. The shrine of Inti God is where the Santo Domingo church was built upon and the Temple of Korikancha is another sacred place that means a great deal to the Peruvians. According to ancient lore, the temple was covered in gold when the Incans inhabited the area. The last stop of our day will be at the Cathedral in the center of town, colonial art adorns the church along with a huge Catholic cross that was brought to the area when the Spaniards arrived.
Breakfast and dinner will be served during the course of the day and a local restaurant will host you for dinner. We stay in Cusco before we leave the area for another adventure in picturesque Peru.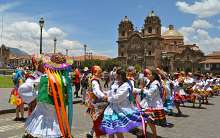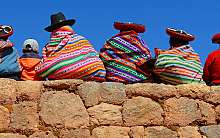 ---
DAY 10
Cusco / Juliaca / Puno (B/D)
We leave Cusco on a flight to Juliaca and when you arrive, we will transfer you to your hotel in Puno on the shores of Lake Titicaca. Breakfast will be served before the flight and dinner will be served at the hotel with an overnight stay in Puno.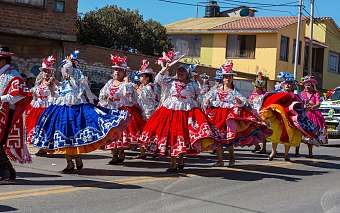 ---
DAY 11
Puno: Titicaca Lake (B/L/D)
After breakfast, we will spend a full day in Puno on the sandy beaches of Lake Titicaca. First, we will go to the manmade Tortora Reefs and visit the Uros people who live in the area. Taquile Island is a traditional settlement where the locals still make their homes and celebrate their ancestral traditions for you to see. You can take walking tours of the island and get a fantastic view of Lake Titicaca. You can take lunch on the island and later in the afternoon we will depart for our hotel for dinner and overnight stay in Puno.
---
DAY 12
Puno / Juliaca / Lima (B)
Day 12 mixes travel and tourism, we will depart Puno via Juliaca on route to Lima. During the trip, stops will be made at Hatun Colla, a pre-Incan cemetery on the shores of Lake Umayo. This stop will give a traveler a chance to see the Chullpas, monuments that stand over six metres high that we constructed without the benefit of heavy equipment over 700 years ago. A visit to local residents will be an eye-opener for the traveler as they gain insight into the local's lifestyles in the area. Hen we arrive in Lima, we will have a welcoming celebration ready for our tour group with an overnight stay in Lima.
Important: We recommend that you book an afternoon departure from Puno to arrive in Lima in the late afternoon/early evening.
---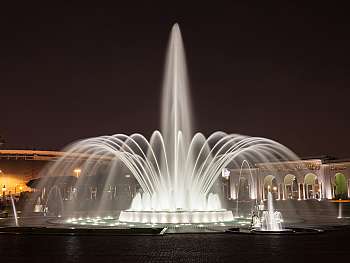 DAY 13
Lima (B)
Visiting the city of Lima will provide many different attractions to visit. From the plazas and streets that run through Lima, a stop at Parque del Amor in Miraflores is the first of many stops that shows visitors a spectacular view of the Pacific Ocean. Once we have seen the Parque, we move to Huaca Pucllana, the cultural centre of Lima. Next on deck for our busy day, is a stop at the Main Square where the Town Hall is located and the Government Place. The Santo Domingo Covent and Cathedral are part of the intricate streetscape that will grab your attention. We will walk the corridors that San Martin de Porres and San Rosa de Lima walked back in the 17th century, where their remains rest today.
OPTIONAL: Take the city tour and stop for a special treat at a local Peruvian food market – this is an add-on – and is considered a private tour. You can see what the locals eat from vegetables, fruit to the meat that sustains them. When in Lima, do as the Limans do and sample the local foods when you take this tour. The evening meal can be taken at the best restaurant in Lima, the Huaca Pucllana that is located among the pre-Incan ruins. The ruins are lit in the evening that beautifully illuminates the ruins for the visitors to view. Our overnight stay will be in Lima a city that dates back over 1500 years. A tour of the Lima Art Museum is available on Saturday or Sunday when the Cathedral is closed.
---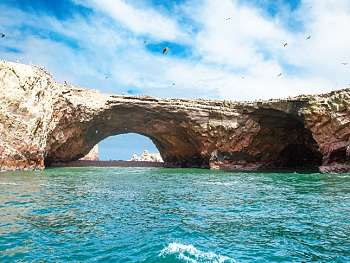 DAY 14
Lima / Paracas (B/D)
We leave Lima to go to Paracas Bay for the very exclusive 'Paracas Premium Service' – departure is at 7:00 a.m., so get a good night's sleep for the awesome day that awaits you. At the airport in Pisco, you will enjoy a flyover of the Nazca Lines, a huge drawing that can only be seen from the air. Animals and insects are the art on display here – while origins aren't known – many think it the ancient calendar of the Incans. After your flyover tour, the rest of the day is a leisurely one where walking tours can be taken or not. Dinner will be served at the hotel and your accommodation will be at the Paracas.
Important: Be aware, activities are subject to change for the flyover tour based on weather and access to airspace.
---
DAY 15
Paracas / Lima (B)
An early start will greet out travelers and a boat tour of the Ballestas Island will be the reason why. Like the Nazca Lines, a 'Chandelier,' is embedded in the sand and can be seen on the way to the island. Sea lions, pelicans, and Humboldt penguins can be seen and they pose for pictures for the tourists who visit the island. 'Paracas Premium Service' will see you depart to Lima in the afternoon and you will be dropped off at your hotel for an overnight stay in Lima.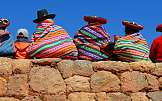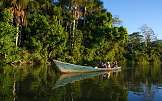 ---
Day 16
Lima (B)
It's hard to believe, but your trip to Peru is over – we will transfer you after breakfast for departure flight home with a bag full of memories that will be the subject of conversation for a lifetime.
---
Dates & Rates
Independent Tour Option Available
---
Departure date
Start Date
End Date
Double Price
Single Price
Child Price
Book
31 Mar 2019
31 Mar 2019
15 Apr 2019
$3865
$3665 (before Apr 30)
$5189
$4989 (before Apr 30)
$3865
$3665 (before Apr 30)
BOOK THIS TOUR
28 Apr 2019
28 Apr 2019
13 May 2019
$3865
$3665 (before Apr 30)
$5189
$4989 (before Apr 30)
$3865
$3665 (before Apr 30)
BOOK THIS TOUR
26 May 2019
26 May 2019
10 Jun 2019
$3865
$3665 (before Apr 30)
$5189
$4989 (before Apr 30)
$3865
$3665 (before Apr 30)
BOOK THIS TOUR
07 Jul 2019
07 Jul 2019
22 Jul 2019
$3865
$3665 (before Apr 30)
$5189
$4989 (before Apr 30)
$3865
$3665 (before Apr 30)
BOOK THIS TOUR
05 Oct 2019
06 Oct 2019
21 Oct 2019
$3865
$3665 (before Apr 30)
$5189
$4989 (before Apr 30)
$3865
$3665 (before Apr 30)
BOOK THIS TOUR
16 Nov 2019
17 Nov 2019
02 Dec 2019
$3865
$3665 (before Apr 30)
$5189
$4989 (before Apr 30)
$3865
$3665 (before Apr 30)
BOOK THIS TOUR
* All prices in USD
Independent Dates & Rates
---
Inclusions
---
OUR RATES INCLUDE:
• 12 nights at the hotels of the selected category with daily breakfast + 03 nights at Puerto Maldonado Lodge with full board.
• All transfers, visits and excursions highlighted in blue, will be provided on Group or SIC Basis and including English-speaking local guides.
• All other services will be provided on private basis and including English-speaking local guides.
• VISTADOME train ticket for the route Ollantaytambo/Aguas Calientes/Ollantaytambo.
• All entrance fees to attractions visited as described in the itinerary (unless stated otherwise).
• Meals mentioned.
OUR RATES DO NOT INCLUDE:
• International air tickets.
• Domestic air tickets.
Day 2 - Lima - Puerto Maldonado
Day 5 - Puerto Maldonado - Cuzco
Day 10 - Cuzco - Juliaca
Day 12 - Juliaca - Lima
Quote for domestic air tickets:
PER PASSENGER: USD 300.00 / LUGGAGE: 1PC 23Kg (50 pounds)
Airport taxes for Nazca Lines flight (USD 4.50 net per passenger, this should be paid on spot).
Personal expenses, beverages in meals.
Tips for transfers, guides or waitress.
Services not mentioned.
Please note: some days of the tour will be with a group and some days will be private
Meals: B = Breakfast / L = Lunch / D = Dinner
| | | |
| --- | --- | --- |
| CITY | 4.5 - 5 STARS HOTELS / Standard room | NT |
| LIMA | Mercure Ariosto Miraflores | 1 |
| PUERTO MALDONADO | Posada Amazonas Lodge | 3 |
| SACRED VALLEY | Sonesta Posadas del Inca Yucay | 2 |
| MACHU PICCHU | Sumaq Hotel | 1 |
| CUSCO | El Mercado | 2 |
| PUNO | Casa Andina Premium Puno (lake view) | 2 |
| LIMA | Mercure Ariosto Miraflores | 2 |
| PARACAS | Doubletree Resort by Hilton Hotel Paracas | 1 |
| LIMA | Mercure Ariosto Miraflores | 1 |
| | TOTAL OF NIGHTS | 15 |