---
DAY 1
ARRIVE IN PALERMO
Our driver will welcome you to the Palermo airport and then bring you to your charming 4-star hotel in the city center. Enjoy dinner on your own.
---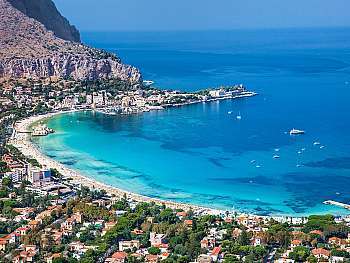 DAY 2
TOUR PALERMO AND MONREALE
Today you'll be enchanted by Palermo's wide boulevards, traditional old quarter, and baroque palaces. See the city's main sights, including the Cathedral of Palermo and Quattro Canti, the extravagant baroque square ringed by buildings and sculptures. Spend the afternoon discovering the splendor of the nearby Monreale Cathedral. Dating from the 12th Century, it shows the architectural influences of both the Normans and the Arab population.
---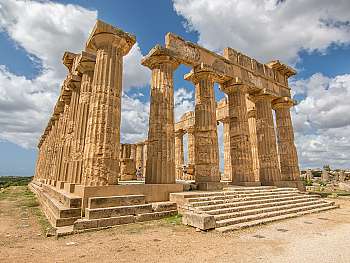 DAY 3
EXPLORE SICILY'S GREEK RUINS
Depart for Segesta to visit its magnificent Greek Theater and Doric Temple. Transfer to Montallegro, the small village home to Capitolo 1 restaurant, where you will enjoy a fantastic lunch. Continue to Agrigento's beautiful Valley of the Temples, one of the most representative sites of Greek civilization in the Mediterranean. Visit the temples of Hercules, Juno, and Concordia, plus the beautiful Garden of Kolymbetra.
---
DAY 4
MOSAICS IN PIAZZA ARMERINA
Piazza Armerina is famous for the extraordinary floor mosaics in the Roman Villa del Casale, a 3rd Century villa. These dazzling mosaics are among some of the best-preserved in the world, depicting scenes from everyday life, including children at play and big game hunts of the exotic African animals brought to Rome for gladiator games. Spend the rest of the day in Siracusa at your leisure.
---
DAY 5
THE SIGHTS OF SIRACUSA
Once the capital of Sicily, Siracusa remains one of the most important cities on the island. With your local guide, visit the Ear of Dyonisus, the Greek Theater, and the Altare di Ierone. Walk through the historical center on Ortigia Island to admire the cathedral, the Aretusa Fountain, and the ancient streets. Then head a bit further up the coast to reach the charming town of Taormina
---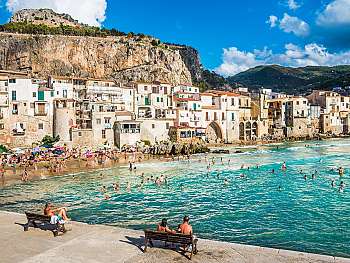 DAY 6
THE PEARL OF THE MEDITERRANEAN
Meet up with your local guide to explore the historical center of the beautiful hilltop town of Taormina, famous for its Greek-Roman Amphitheater and its enchanting views of the Ionian Sea and Mount Etna. Enjoy a refreshing, and authentic, icy Sicilian granita and then spend the rest of the afternoon at your own pace.
---
DAY 7
THE BIGGEST VOLCANO IN EUROPE
Depart for Mount Etna after breakfast, admiring the beautiful volcanic landscape along the way. Ascend 1800 meters above sea level to Rifugio Sapienza, where, after a short walk, you will reach the inactive Silvestri Craters. Return to Taormina for an afternoon of leisure.
---
DAY 8
BUON VIAGGIO
Enjoy breakfast at your hotel before departing to the Catania airport, where you will receive assistance with check-in.
---
Choose your preferred dates and book your trip today
BOOK NOW
Dates & Rates
Inclusions
---
WHAT'S INCLUDED
2 nights with breakfast at hotel in Palermo
1 traditonal sweets box upon arrival in Palermo hotel
1 night with breakfast at hotel in Agrigento
1 night with breakfast at hotel in Siracusa
3 nights with breakfast at hotel in Taormina
1 prosecco bottle upon arrival in Taormina hotel
1 lunch at Capitolo 1 restaurant in Montallegro
1 granita at local bar in Taormina
Mercedes sedan or minivan with English-speaking driver at disposal according to the itinerary (including transfers in & out)
English-speaking local guide in Palermo (max 4 hours)
English-speaking local guide in Agrigento (max 2 hours)
English-speaking local guide in Piazza Armerina (max 2 hours)
English-speaking local guide in Taormina (max 4 hours)
English-speaking local guide in Etna volcano (max 4 hours)
WHAT'S EXCLUDED
Entrance fees are not included. Please prepare to pay approximately 50 Euros per person locally.
ESSENTIAL INFORMATION
Low Season Availablity from November 1, 2017 to March 31, 2018
High Season Availability from April 1 to October 31, 2018
Rates shown are per person in single occupancy room or sharing double/ triple room
Black out dates apply on holidays and trade shows
HOTELS FOR LUXURY PACKAGE:
Palermo: Hotel Villa Igiea (5 star)
Siracusa: Grand Hotel Ortigia (5 star)
Agrigento: Hotel Villa Athena (5 star)
Taormina: Hotel San Domenico Palace (5 star)
Hotels can be substituted with others based on availability.